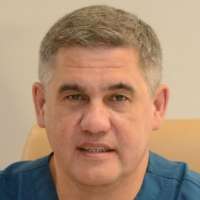 ALBERT SUFIANOV
Russian Federation

Albert Sufianov, MD, DMSc (doctor of medical science), Prof. has been the Chief Physician and Medical Director of Federal Centre of Neurosurgery since 2010.
Since 2014 Professor Sufianov is also the Chair of Department of Neurosurgery at Tyumen State Medical University.
Professor Sufianov graduated from Irkutsk Medical University, majoring in General Medicine.
Albert Sufianov is the author of more than 200 publications, among which are 5 monographs, 7 inventions and 3 methodical guidelines.
Under his supervision 7 Ph.D. dissertations were accomplished and successfully defended. At present, Professor Sufianov supervises 9 Ph.D. and 2 Doctoral theses.
Albert Sufianov is an active member of World Academy of Neurological Surgery, a member of Neuroendoscopy Committee of WFNS, a member of executive committee of Asian Congress of Neurological Surgeons, a member of European Society of Pediatric Neurosurgery, a member of Association of Neurosurgeons of Russia.
He is a member of editorial board of such Russian medical journals as "Neurosurgery","Russian Neurosurgical Journal named after Professor Polenov"; a member of Executive Board of the Association of Neurosurgeons of Russia, a member of Dissertation Board at the Federal State-Financed Institution "Novosibirsk Research Institute of Traumatology and Orthopedics" of the Ministry of Health of the Russian Federation.
He is a guest lecturer and an expert in Endoscopic Neurosurgery at international congresses, schools and conferences.
Professor Albert Sufianov has been awarded with the first prize of the European Academy of Multidisciplinary Neurotraumatology (2001).
He is the winner of the governor's prize in science and technology "New Approach to the Treatment and Prevention of Hypertension-Hydrocephalic Sydrome"; the winner of the Contest "Social Esteem 2011" in category "Professional of the year"; the winner and the award-holder of the annual prize in category "Healthcare" at the Contest "Men of Distinction of Tyumen. Top 50" (2012).
In 2013 Professor Sufianov was awarded with the Certificate of Merit of the Tyumen region.
Professor Albert Sufianov has performed more than 1400 surgeries in the Federal Centre of Neurosurgery (Tyumen, Russia).